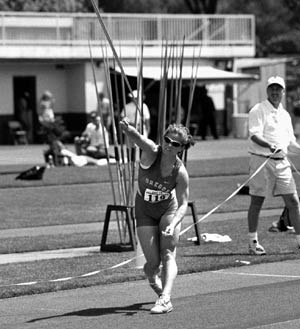 Meet Dr. Karis!
Get to know Dr. Karis a little better! Dr. Karis shared her journey to chiropractic with us!
I was not raised with chiropractic. I had multiple sports injuries and surgeries and went to physical therapy. Then when I was recruited to the University of Oregon as a javelin thrower, I was still dealing with injuries. Mainly shoulder pain, but we did a lot of training—we lifted weights and we trained 6 days a week  10 months out of the year.
In the middle of my sophomore season at the University of Oregon, I was basically in the training room daily dealing with chronic shoulder pain. At that point, I had had two cortisone injections and was on daily anti-inflammatory medication.
Through the biology program at the University of Oregon, they had a mentor class where you could shadow different professionals in the community. One of the professionals I chose to shadow was a chiropractor. I was curious, I really didn't know much about it. After shadowing him, he asked if I wanted to be treated. I said yes, and I literally got off the table and I told him, I feel incredible and I have a track meet next weekend, I'll let you know how it goes.
I threw the best series of my life at that track meet and I won Pac-10. It was the best series of throws in my collegiate career. So I just felt like, wow, how did this happen? The chiropractor basically took this body that felt semi-broken and disconnected as an athlete and helped me plug back in again.
He didn't cure my arm pain, but he made my body feel like it could work together again. As an athlete, to be able to mentally connect and feel my body move the way I needed to move, gave me the confidence I needed.
That same season, I went on to Nationals, All American, and then qualified for the Olympic trials. It helped me with the confidence I needed to get to that level.
I did end up having two shoulder surgeries. At that point, I had to have surgery to repair the damage I had done to that shoulder.
I then started shadowing a chiropractor in Battleground, WA when I would come home from college for the summer. I decided that this was what I wanted to do!
At that point, that was my plan. I finished all of my prerequisites and graduated from the University of Oregon. After taking a year off to be a personal trainer, I came back up to the northwest to go to chiropractic school in Portland.
I was part of the sports med team and focused a lot on sports injuries. After graduating, we decided to stay in Vancouver. We worked in another clinic and rented space.
As I started to think about getting pregnant and having kids, I started taking pregnancy and pediatric courses. That's what started me down the path of craniosacral work, pregnancy work, and that more specialized path. I added to the depth of what I was able to treat and offer a variety of treatment options from manual adjustments to craniosacral, to muscle work, and pregnancy-specific care.
I've always grown up as an athlete and so now, having the business is kind of like my sports team. I have different players needed in different places, and we're the coaches. We're all part of the same team and different players are needed at different points for different strengths and sometimes we have to change our game plan, but it's creating that culture in which everyone feels respected, supported, and has a voice. Ultimately, we are all here for the same reason—to take care of our patients.